Peter Binfield wrote a nice analysis on Mega Journals over at Creative Commons Aotearoa New Zealand  an organisation on which I serve. MegaJournals are a recent phenomenon, that have changed the face of scientific publishing.
I am an academic editor in PeerJ, as well as in PLOS ONE (PONE), "the" megajournal of the Public Library of Science. I entered PONE first as an author (submitted before PONE had began publishing), and then joined as an Academic Editor under the rule of Pete Binfield. I saw PONE grow into the publishing giant it is today, feeling proud of being a small part of it. Not long ago. I saw Pete leave to join Jason Hoyt (formerly from Mendeley, another venture I had signed up to in its very early days) in search of their new adventure that was eventually to become PeerJ.  It wouldn't be long before I would become an academic editor and find myself, again, under Pete's rule. It has been about a year since that invitation, and Open Access Week gave me an opportunity to reflect on my experience.
Who is Pete Binfield?
PB: Before PLOS ONE I spent about 14 years in the subscription publishing world.  I worked for Institute of Publishing Physics (doing books), then moved to Holland to work for Kluwer Academic Publishers for 8 years (and Kluwer then merged with Springer), and finally I moved to the US to work for SAGE Publications (the largest social science publisher). It was during my time at Kluwer and then SAGE that the Open Access movement was really taking off, and it quickly became apparent to me that this was the way the industry was (or at least should be!) going. I wanted to be at the leading edge of this movement, not looking in at it from outside, trying to play catch up, so when the opportunity came up to move to PLOS and run PLOS ONE, I jumped at it.
I am a biology teacher (broadly speaking)  mainly in the medical school. As such, I can't escape talking about evolved and engineered systems. Animals' bodies are evolved – the changes in structure and function happen against a backdrop of conserved structures. You can't really understand "why" an organ looks the way it looks and works the way it does without thinking about what building blocks were available to start with. Engineers have it easier in a sense. They don't have a preset structure they need to hack to get the best they can, they can start from scratch. Building an artificial kidney that works in dry land has less constraints that evolving one from that of a water-dwelling ancestor. So if you are a journal how do you go from print to online?
Building a journal from scratch, too, is not the same as evolving one. When PLOS came to life in the early over a decade ago they were able to invent their journals from scratch. And boy, did they do that well (and still do). They changed the nature of formal scientific communication and sent traditional publishers to chase their tails. Traditional publishers have been slow to adapt – trying to  hack the 17th Century publishing model.  When PLOS ONE was born it was unique, exploiting what PLOS had achieved so well as an Open Access online publication, but also seeking to changed the rules of how papers were to be accepted. This, in the whole evolution analogy was a structural change with a very large downstream effect.
PB: I think some of my prior colleagues might have thought that it was a strange transition – at SAGE I had been responsible for over 200 journal titles in a vibrant program, and now I was moving to PLOS to run a single title (PLOS ONE) in an organization that only had 7 titles. However, even at that time I could see the tremendous potential that PLOS ONE had and how it could bring about rapid change. It was the unique editorial criteria (peer-reviewing only for scientific validity); the innovative functionality; the potential for limitless growth; and the backing of a 'mover and shaker' organization which really excited me. I joined PLOS with the hope that we could make PLOS ONE the largest journal in the world, and to use that position to bring about real change in the industry – I think most people would agree we achieved that.
Until last year, you could pretty much put journals into 2 broad bags: those that were evolving from "print" standards and those that were evolving from "online" standards, which also included the 'megajournals' like PLOS ONE. Yet over 10 years after the launch of PLOS,  and given the accelerated changes in "online" media,  there was an opportunity for a fresh engineering approach.
PB: When I left, the journal was receiving about 3,000 submissions a month, and publishing around 2,000 – so to change anything about PLOS ONE was like trying to change the engines of a jet, in mid-flight. We had an amazingly successful and innovative product (and, to be clear, it still is) but it was increasingly difficult to introduce significant new innovations (such as new business models; new software; a new mindset).

In addition, myself and Jason wanted to attempt an entirely new business model which would make the act of publishing significantly cheaper for the author. I think it would have been very hard for PLOS to attempt this within the PLOS ONE structure which, in many ways, was already supporting a lot of legacy systems and financial commitments.

When Jason approached me with the original idea for PeerJ it quickly became clear that by partnering together we would be able to do things that we wouldn't have been able to achieve in our previous roles (he at Mendeley, and me at PLOS). By breaking out and starting something new, from scratch, it was possible to try to take the lessons we had both learned and move everything one or two steps forwards with an entirely new mindset and product suite. That is an exciting challenge of course, but already I think you can see that we are succeeding!
PeerJ had from the start a lot that we (authors) were looking for. We had all been struggling for a while with knowing that the imperative to publish in Open Access was growing, either for personal motivation (as in my case) or because of funders' or institutional mandates. We were also struggling with the perceived cost of Open Access, especially within the traditional journals. There is too much at stake in individual's careers to not carefully choose how to "brand" our articles because we know too well that at some point or another someone will value our work more on the brand than on the quality, and that someone has the power to decide if we get hired, promoted, or granted tenure. PLOS ONE had two things in its favour: it was part of the already respected PLOS brand, and it was significantly cheaper than the other PLOS journals. Then, over a year ago, Pete and Jason came out of the closet with one of the best catch-phrases I've seen:
If we can set a goal to sequence the Human Genome for $99, then why shouldn't we demand the same goal for the publication of research?
They had a full package: Pete's credibility in the publishing industry, Jason's insights on how to help readers and papers connect, and a cheap price, not just affordable, cheap. I bought my full membership out of my own pocket as soon as I could. I gave them my money because I had met and learned to trust both Pete's and Jason's insights and abilities.
PB: [The process from development to launch day ] was very exciting, although clearly nail biting! One of the things which was very important to us was to build our own submission, peer review and publication software entirely from scratch – something which many people thought would not be possible in a reasonable time frame. And yet our engineering team, recruited and led by Jason, were able to complete the entire product suite in just 6 months of development time. First we built the submission and peer review system, and as soon as submissions started moving through that system we switched to build the publication platform. Everything is hosted on the cloud, and implemented using github, and so were able to keep our development infrastructure extremely 'light' and flexible.
But even that does not guarantee buy-in. Truth be told, even if PeerJ was to be an interesting experiment I think mine was money well spent. (All in the name of progress.) What tipped the balance for me was the addition of Tim O'Reilly to the mix. Here is someone that understands the web (heck, he popularised that famous web 2.0 meme), publishing and innovation. O'Reilly brought in what, from my point of view, was missing in the original mix and that was crucial to attract authors: a sense of sustainability.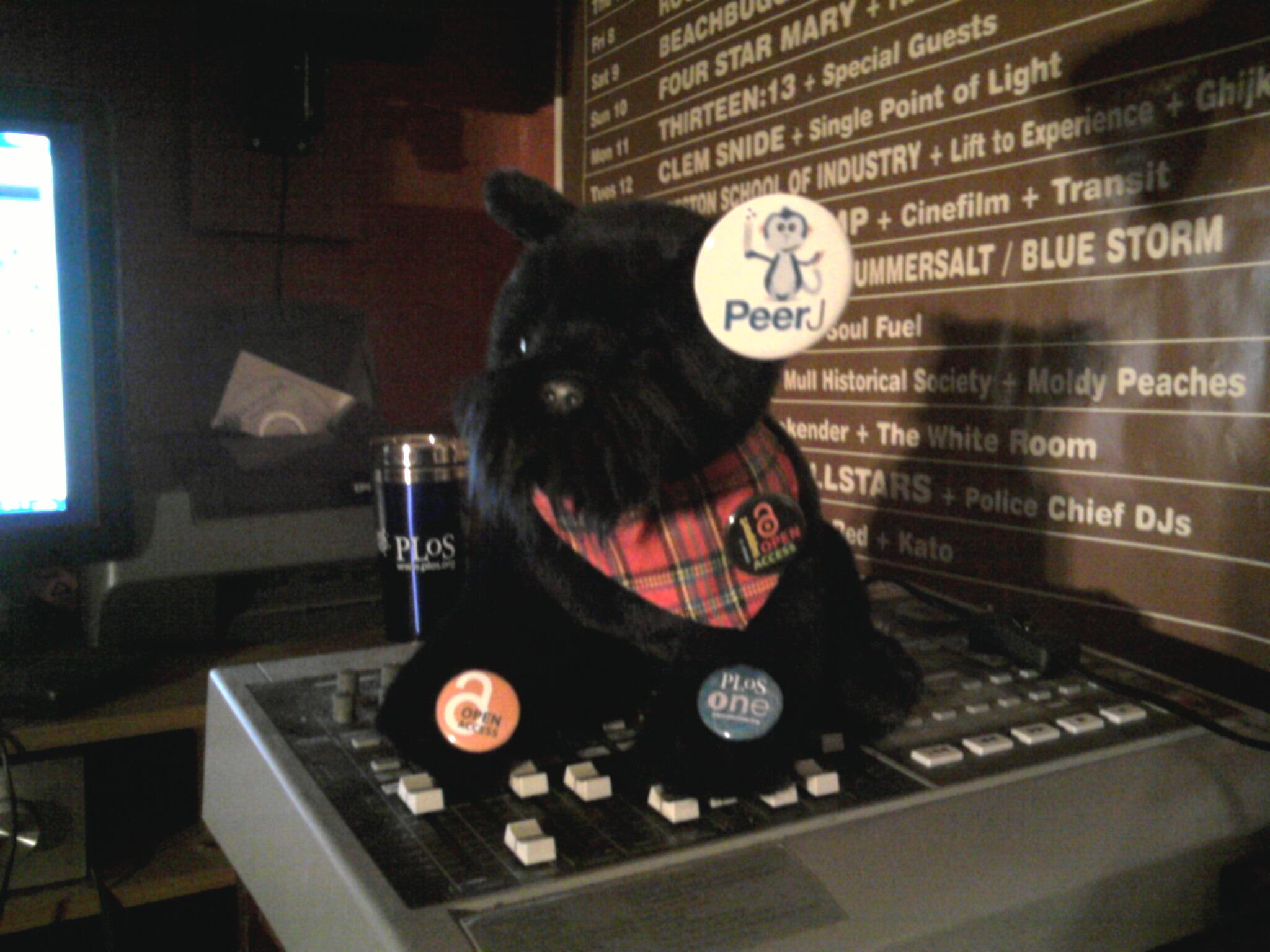 PeerJ looked different to me in a very unique way – while other journals screamed out  "brand" or "papers", PeerJ was screaming out  "authors".  Whether this might be a bias of mine because of my perception of the founders, or the life-membership model, to me this was a different kind of journal. It wouldn't be long until I got invited to join the editorial board, and then got to see who my partners in crime would be.
PB: Simultaneously, we were building up the 'editorial' side of the journal. We started with a journal with no reputation, brand, or recognized name and managed to recruit an Editorial Board of over 800 world class academics (including yourself, and 5 Nobel Laureates); we created the editorial criteria and detailed author guidelines; we defined a comprehensive subject taxonomy; we established ourselves with all the third party services which support this infrastructure (such as CrossRef, CLOCKSS, COPE, OASPA etc); we contracted with a production vendor and so on.

Everything was completed in perfect time, and worked flawlessly from the very start – it really is a testament to the talented staff we have and I think we have proven to other players that this approach is more than possible.
But to launch a journal you need articles and also to make sure your system does not crash. Academic Editors were invited to submit manuscripts free of charge in exchange of participating in the beta testing. I had an article that was ready to submit, and since by now I had pretty much no funding the free deal was worth any bug reporting nuisance. I had been producing digital files for submission for ages and doing submissions on line for long enough that I set a full day aside to go through the process (especially since this was a bug reporting exercise). And then came the surprise. Yes, there were a few bugs, as expected, but the submission system was easy and as user friendly as I had not anticipated. (Remember when above I said PeerJ screamed "authors"?). For the first time I experienced a submission system that was "user friendly".
PB: I am constantly amazed that you can start from nothing, and provided you have staff who know what they are doing, and that you have a model which people can get behind, then it is entirely possible to build a world-class publishing operation from a standing start and create something which can compete with, and beat out, the more established players. As a testament to this, we have been named one of the Top 10 "Educational Technology Innovators of 2013" by the Chronicle of Higher Education; and as the "Publishing Innovation of 2013" by the Association of Learned and Professional Scholarly Publishers.
Then came the reviews of the paper – and there is when I found the benefit of knowing who the reviewers were. Many times I encounter these odd reviewer's comments where I read puzzled and go "uh?". In this case, because I knew who the reviewer was I could understand where they were coming from.  It made the whole process a lot easier. Apparently, the myth that people won't review papers if their names are revealed, is , well, a myth.
PB: One particularly pleasant surprise has been the community reaction to our 'optional open peer review'. At the time of writing, pretty much 100% of our authors are choosing to reproduce their peer-review history alongside their published articles (for example, every paper we are publishing in OA week is taking this option). We believe that making the peer review process as open as possible is one of the most important things that anyone can do to preserve the valuable comments of their peer-reviewers (time consuming comments which are normally lost to the world) and to prove the rigour of their published work .
I am not alone at being satisfied as an author. Not too long ago, PeerJ did their first author survey. Even as an editor I was biting my nails to see the results, I can only imagine the stress and anticipation in PeerJ headquarters.
PB: Yes, we conducted our first author survey earlier this year and we were extremely pleased to learn, for example, that 92% of responding authors rated their overall PeerJ experience as either "one of the best publishing experiences I have ever had" (42%) or "a good experience" (49%). In addition, 86% of our authors reported that their time to first decision was either "extremely fast" (29%) or "fast" (57%). Any publisher, no matter how well resourced or established, would be proud to be able to report results like these!

Perhaps the biggest surprise was how engaged our authors were, and how much feedback they were willing to provide. We quite literally received reams of free text feedback which we are still going through – so be careful what you ask for!
I am not surprised at this – I myself provided quite a bit of feedback. Perhaps seeing these comments from Pete emphasise the sense of community that some of us feel is the point of difference with  PeerJ.
PB: We are creating a publishing operation, not a 'facebook for scientists', however with that said our membership model does mean that we tend to develop functionality which supports and engages our members at every touch point. So although it is early days, I think a real community is already starting to form and as a result you can start to see how our broader vision is taking shape.

Unlike most publishers (who have a very 'article centric' mentality), our membership model means that we are quite 'person centric'. Where a typical publisher might not know (or care) who the co-authors are on a paper, for us they are all Members, and need to be treated well or they will not come back or recommend us to their peers.With this mindset, you can see that we have an intimate knowledge of all the interactions (and who performed them) that happen on a paper. Therefore when you come to our site you can navigate through the contributions of an individual (for example, see the links that are building up at this profile) and see exactly how everyone has contributed to the community (through our system of 'Academic Contribution' points.

Another example of our tendency towards 'community building' is our newly launched Q&A Functionality. With this functionality, anyone can ask a question (on a specific part of a specific article; on an entire article; or on any aspect of science that we cover) and anyone in the community can answer that question. People who ask or answer questions can be 'voted' up or down, and as a result we hope to build up a system of 'reputation recognition' in any given field. Again – this is a great way to build communities of practise, and the barrier to entry is very low.
It is early days – this is new functionality and it will be some time before we can see if it takes off. PLOS ONE also offers commenting, but that seems to be a feature that is under-used. I can't but wonder whether the experience of PeerJ might be different because the relationship with authors and editors might be also different. Will feeling  that we, the authors (and not our articles), are the centre of attention make a difference?
PB: This is extremely important to us, so thank you for noticing! One of the mistakes that subscription publishers are making is that they have historically focussed on the librarian as the customer (causing them to develop features and functionalities focussed on those people) when in an Open Access world, the customer is the academic (in their roles as authors, editors and reviewers). Open Access publishers are obviously much more attuned to the principle of the 'academic as customer' but even they are not as focussed on this aspect as we (with our Membership model) are .

It is very important that authors feel loved; that people receive prompt and effective responses to their queries; that we listen to complaints and react rapidly and so on. One way we are going to scale this is with more automation – for example, if we proactively inform people of the status of their manuscript then they don't need to email us. On another level, publishing is still a 'human' business based on networks of interaction and trust, and so we need to remember that when we resource our organisation going forwards.
This is what I find exciting about PeerJ – there is a new attitude, if not a new concept – that seems to come through. I will not even try to count the number of email and twitter exchanges that I have had with Pete and PeerJ staff ( I would not be surprised that eyes roll at the other end as they see the "from" field in their email inbox). But they have always responded. With graceful and helpful emails. Whether they "love" me or not (as Pete says above) is irrelevant when one is treated with respect and due diligence. I can see similar interactions at least on twitter – PeerJ responsive to suggestions and requests, and, at least from where I am standing, seemingly having innovation at the top of the list.
PB: I think that everyone at PeerJ came here (myself and Jason included) because we enjoy innovating and we aren't afraid to try new things. Innovation is quite literally written into our corporate beliefs ("#1. Keep Innovating – We are developing a scholarly communication venue for the 21st Century. We are committed to improving scholarly communications in every way possible") and so yes, it is part of our DNA and a core part of our competitive advantage.

I must admit, it wasn't necessarily our intention to use twitter as our bug tracker (!), but it is definitely a very good way to get real time feedback on new features or functionality. Because of our flexible architecture, and 'can do' attitude, we can often fix or improve functionality in hours or days (compared to months or years at most other publishers who do not control their own software). For an example of this in action, check out this blog post from a satisfied 'feature requestor'.
I want PeerJ to succeed not only because I like and admire the people involved with it but because it offers something different, including the PrePrint service to which I hope to contribute soon. So I had to ask Pete: how is the journal doing?
PB: Extremely well! But don't forget that we are more than just a journal, we are actually a publishing ecosystem that aims to support authors throughout their publication cycles. PeerJ, the peer-reviewed journal has published 200 articles now, but we also have PeerJ PrePrints (our pre-print server) which has published over 80 articles. Considering we have only been publishing since February, this is a very strong output (90% of established journals don't publish at this level). Meanwhile, our brand new Q&A functionality is already generating great engagement between readers and authors.

We have published a ton of great science, some of which has received over 20,000 views (!) already. We are getting first decisions back to authors in a median of 24 days, and we are going from submission to final publication (including revisions and production time) in just 51 days. Our institutional members such as UC Berkeley, University of Cambridge, and Trinity as well as our Editorial Board of >800 and our Advisory Board of 20, have kicked the tires and clearly support the model. We have saved the academic community almost $1m already, and we now have a significant cadre of members who are able to publish freely, for life, for no additional cost. Ever.
I was thrilled when I got the invitation to become an academic editor in PeerJ, as I was when the offer came from PLOS ONE. I  blog in this space primarily because it is part of PLOS, I am not sure I would had added that kind of stress for any other brand. PLOS has been and continues to be a key player in the Open Access movement, and am proud to be one of their editors.
What the future of PeerJ might be, who knows. I will continue to support the venture because I believe it offers something of real value to science that is somewhat different from what we've had so far. Cant wait to see what else they will pull out of the hat.